We use our own and third party cookies in order to improve your experience and our service. If you wish to disable this feature
click here
to know how. By continuing to browse and interact on this website you consent to the use of cookies.
Accept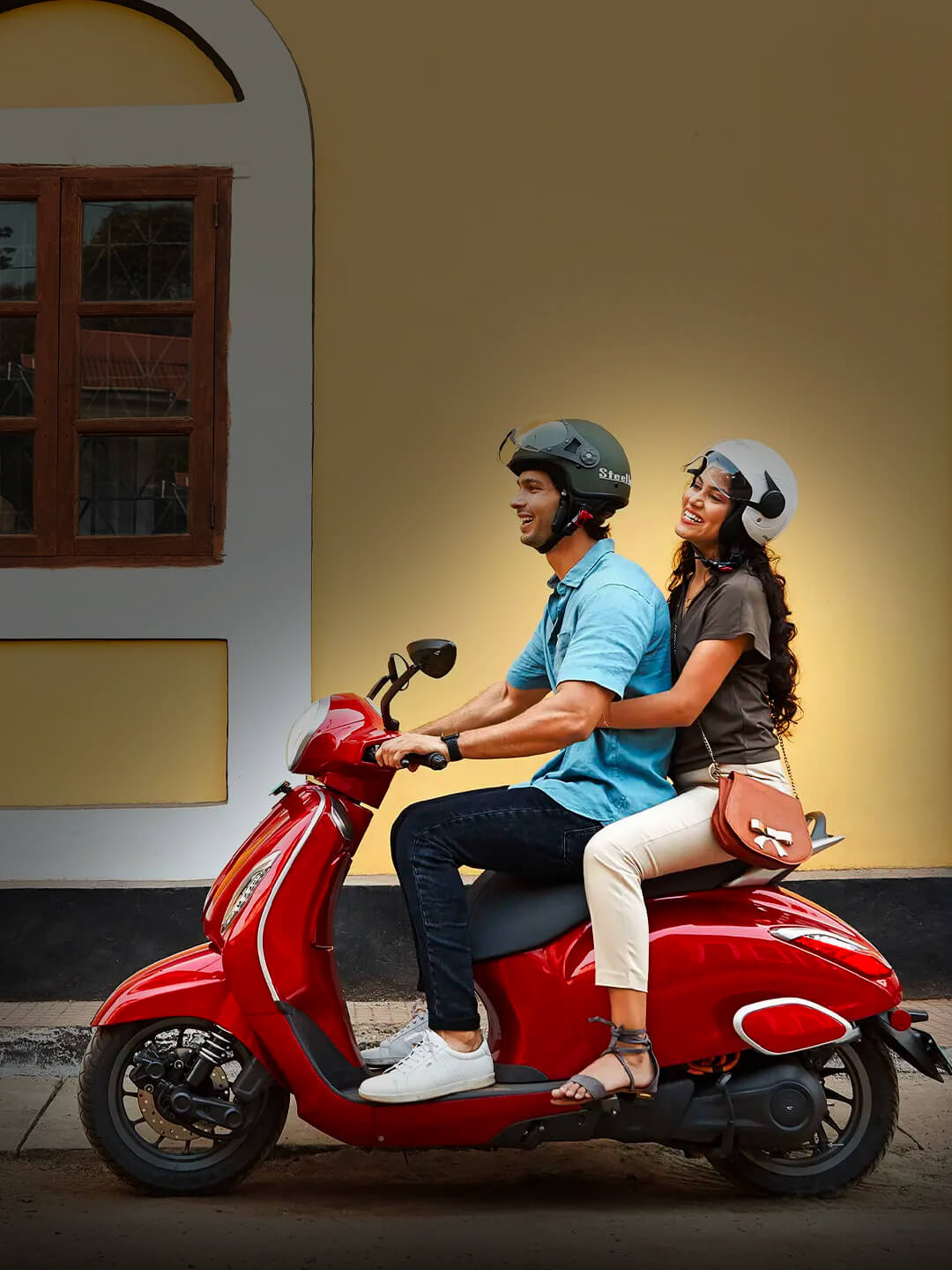 Hamara kal
Quiet.
BUILD

Steel Body panels that shall last for years. Seamless Style.

CONNECTED

Locate your Chetak, receive notifications and updates on your Chetak app.

RIDING RANGE

90 km (IDC as per AIS 040) with a new Battery on a full charge in Eco Mode.

NETWORK

Available in 20+ Cities Ex-Showroom Price (Pune): ₹ 1,40,561
Designed to delight.
Built to Last.
Steel Body
IP67 Water Protection
Flush Fitted Exteriors
Horseshoe DRL Headlamps
Sequential LED Blinker
Visit E-Showroom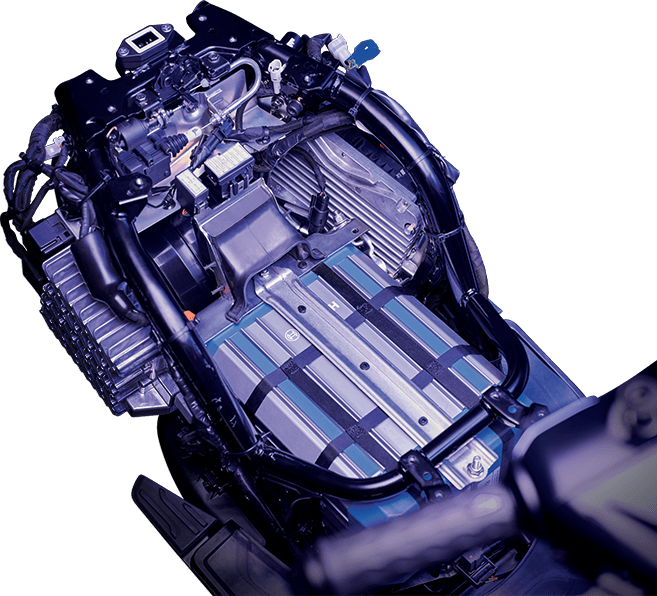 all your
updates
in one
place*.
Bluetooth Enabled

Geo Fencing

Over the Air updates

Tamper Alert

Locate your Chetak

*Click here to learn more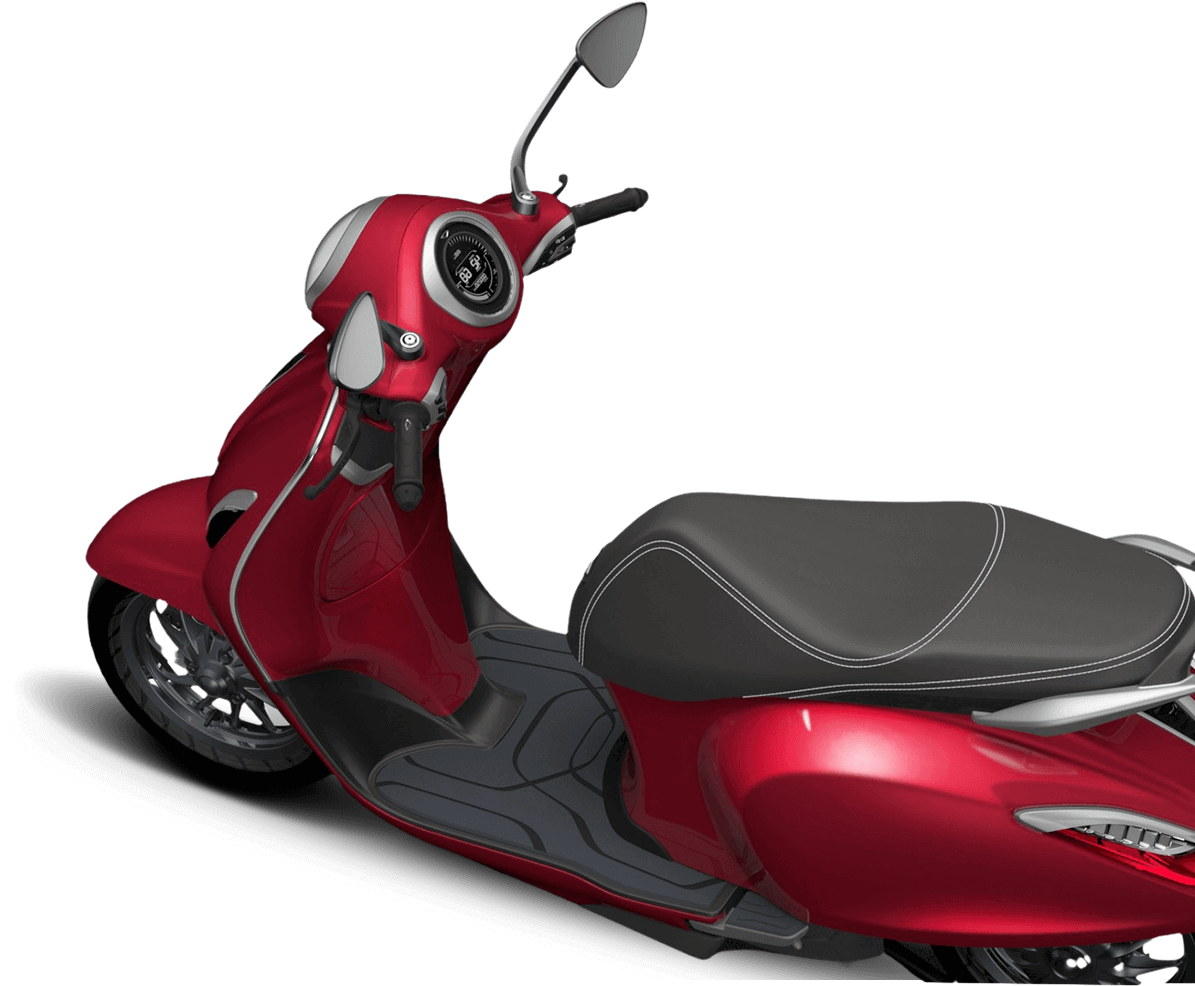 LONG RANGER -
90 km
A class leading range of 90 km (Under ISC as per AIS 040) with a new battery on a full charge in Eco Mode.
60-MINUTE

Quick Charge (Up to 25%)

70000 km, 7 YEARS*

(50000 km, 3 years – Battery Warranty)*

* Click here to learn more
THE
FUTURE OF

MOBILITY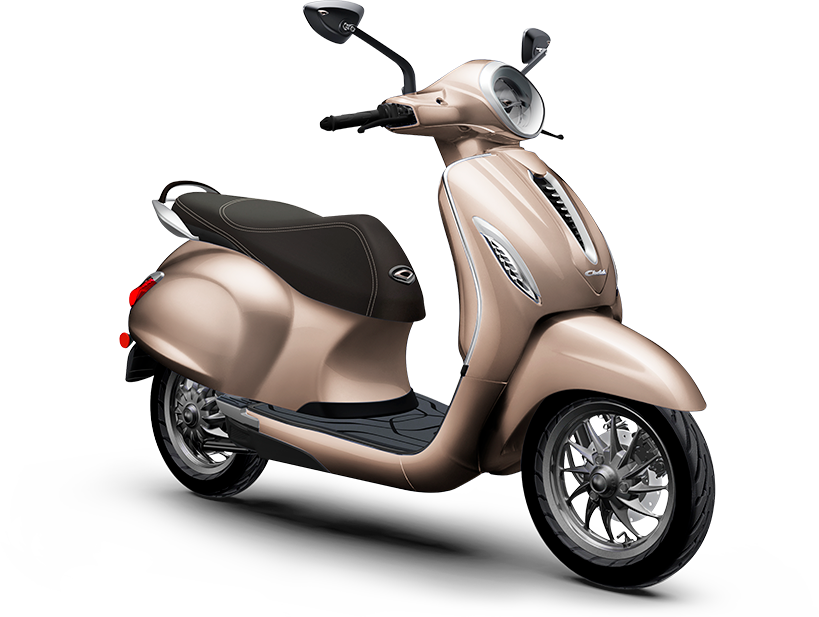 LOCATE A DEALER
FAQ's
Get all your questions answered here.
What is the on-road price of Chetak?
While booking a Chetak electric scooter on website, you will get the indicative breakup of total on-road price. The on-road price on the date and time of final vehicle sale invoice is treated as final and binding.
What measures have been taken to keep Chetak Safe from thermal incidents?
While designing the Chetak, safety of the rider and vehicle is of paramount consideration. Chetak uses high quality advanced chemistry Lithium Ion cells sourced directly from only reputed top-quality manufacturers in the world. Within the battery itself, we use multiple internal safety measures like a Current Interruption Device that isolates the cell in any event of specific malperformance.
Click here to know more
How long does the battery last on Chetak electric scooter?
The Chetak lithium-ion battery is designed to last for 70000 kms which normally takes 7 years, provided the user ensures the lithium-ion battery is kept charged above 15% of capacity and used regularly. We offer a warranty of 3 years or 50000 kms (whichever comes earlier)*.Click here to learn
How to book a chetak online?
It's very simple!
Step 1: Create your account & complete the profile by providing basic details and OTP verifying the same.
Step 2: Specify the variant and colour of Chetak, and your Chetak dealership.
Step 3: Pay the booking amount to your selected Chetak Dealership online.
Click here to learn
How far can Chetak electric two-wheeler go on a full charge?
The Chetak electric scooter has a class-leading range of 90 km (under IDC as per AIS 040) in Eco Mode on a full charge with a new battery.
The range obtained by a user shall depend on factors such as: age of the battery, road and traffic conditions, tyre condition and inflation, riding style, load on the vehicle, use of electrical accessories such as lamps and horn and mobile phone charging etc.